Let's partner to create new opportunities with your clients and high-priority prospects.
Introducing our Guided Discovery Process to your clients and prospects is a powerful way you can add value to your existing relationships and also create new ones. Watch the videos below to see how businesses can benefit from participating in a Guided Discovery.
Change the conversation
What about that stalled deal or those great relationships with prospective clients that for some reason haven't translated into business opportunities? It's time to "change the conversation" by suggesting a 30-minute intro to Guided Discovery.
Schedule a time to talk about this unique value-add.
Together, we can spark new client conversations and connections for our shared benefit.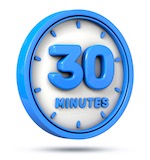 It starts with a 30-minute Zoom.
We'll meet with your client or prospect to determine if a 2-hr Guided Discovery meeting is the best next step.
Discovery meeting uncovers "aha" moments.
The next step is the Discovery meeting, where we lead participants though a conversation that enables them to uncover their own insights. "Aha" moments happen when they hear themselves describe a challenge or opportunity in a new way.
*We can customize our Guided Discovery to uncover areas of need for our partners, too.