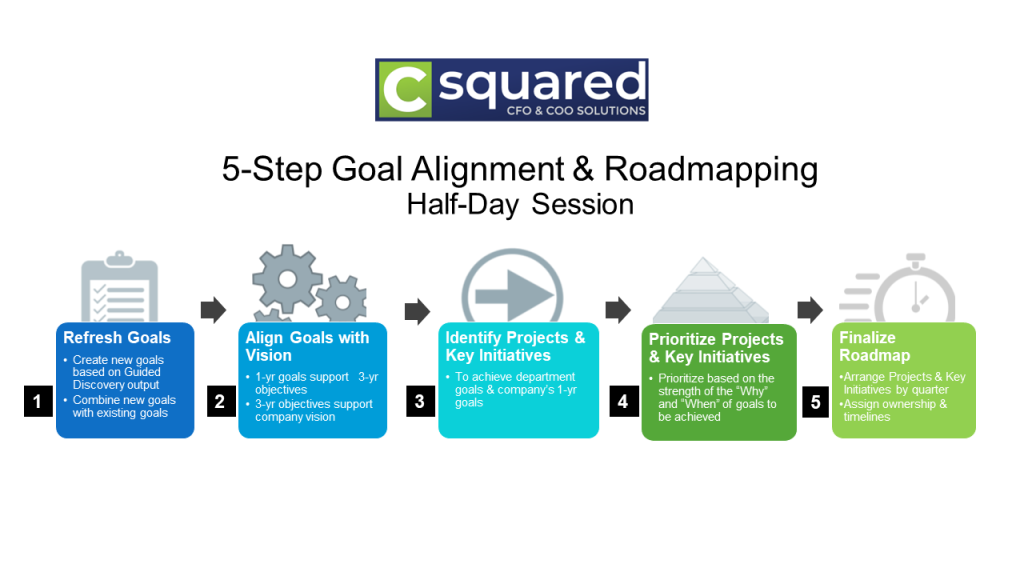 It's something you've wanted to do for a while. We can help make it happen!
There's always going to be tension between the time that must be spent working "in the business" versus the time spent working "on the business". But getting that balance right is NOT easy.
Many business owners would say that they spend 80% of their time running their organizations and 20% of their time thinking strategically. Strategic thinking enables them to take a step back to ensure they aren't missing opportunities to run more efficiently, or overlooking important opportunities to accelerate growth. Maximize that 20% with our Goal Alignment and Roadmapping session.
In just a half day you'll be well on your way to a roadmap with strong buy-in from your leadership, accelerating your business towards your vision!
Here's What Our Clients Say
Achieve your company's NEXT LEVEL of performance by doing what successful companies do:
Align your leadership on where their time, resources and capital need to be focused for the next 12 months, AND
Make sure your short-term goals support your mid-term objectives and these objectives are properly aligned with the business vision.
Take advantage of C Squared's Goal Alignment and Roadmapping Half-Day Session and start getting everyone in alignment and focused on the BIGGER picture.
Click Here if you've not yet experienced Guided Discovery. This complimentary business analysis will focus your team on assessing where they feel there could be some Gaps in the Operations, Finance and Strategic aspects of your business that need to be factored into your half-day session. What you and your leadership team learn from each other during a Guided Discovery will provide the perfect foundation to support your Goal Alignment and Roadmapping Session.
Keeping your head down and running hard is an important part of being successful, but looking up occasionally to make sure you're running in the right direction is just as important.