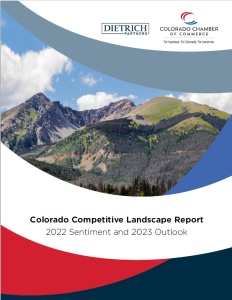 This blog's focus is to make business leaders aware of the 2022 Colorado Competitive Landscape Report which provides a wealth of usable information for planning and implementing strategy in 2023. We believe that many of the recommendations contained in this report are spot-on for middle market businesses. Kudos to Dietrich Partners and the Colorado Chamber of Commerce for providing such an insightful report. We recommend you download the report and read it thoroughly, but here is a snapshot of what you need to know.
C Squared has written about some of these same issues facing middle market businesses – our primary market – in four of our latest blogs in 2022. Here are the activities summarized in the report on what Colorado businesses are currently doing:
Classifying customers by profit margin.
Reorganizing sales and marketing departments, allowing sales to drive marketing.
Building new manufacturing plants or retail outlets.
Reviewing compensation structures to meet industry standards for companies their size.
Right-sizing technology, automating processes, and taking advantage of telematics.
Fine-tuning financial forecasting.
Hiring more employees.
Seeking ways to improve company "culture."
Dietrich Partners recommends that businesses focus on the steps below to improve their companies:
Conduct an Operational Assessment
Perform a Cost Containment Analysis
Provide Middle Management Leadership Training
Evaluate Strategic Planning Processes
Link Human Capital Plan to Strategic Plan
We have taken the liberty to add item E as we see this oversight often in strategic planning processes where staffing is assumed but not thought through.
C Squared provides the analytics and forecasting tools recommended above to our clients. For some, this is an annual process, but we prefer our clients adopt a continual process where plans are revisited every 90 days for fine tuning. Plans are not abandoned but modified to the most current situation analysis. We include observing the "Pareto Rule" or as many know it as the 80-20 rule. This allows for sharper focus of resources and improved performance for the most valuable customers, products, and services. Creative thinking based on lessons learned in 2022 will serve you well in 2023. Plan multiple scenarios and revisit them quarterly.
C Squared Solutions provides interim or fractional CFOs, COOs, and CEO advisors in nearly all industries. We analyze and advise on these issues frequently through sophisticated modeling and experienced management. Give us a call or visit our website for more information and details. We have been there and done that!