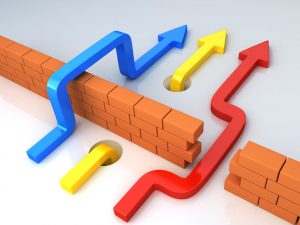 Bold planning for your post COVID-19 future
For many of us, 2021 is an opportunity year. Research from McKinsey & Company illustrates how incremental planning for 2021 will cause your firm to underachieve in 2021. Here are three steps for your 2020 exit and a transformational 2021:
Examine business units: brutally examine the full potential of each area of your business for 2021. Look for weaknesses and issues that will hold you back. Are there areas of your business that are strategically damaged by COVID and should be exited?
Examine products and services: Look at the cost interdependencies between products/services and their target market segment. Can some restructuring in operations become more efficient and reduce costs?
Examine potential opportunities: where are new COVID driven opportunities to strengthen your business and define next steps for action? Could adding complimentary products strengthen a weak product/service line?
Two McKinsey studies show that transformational actions in companies that targeted improvement of 75% or more of trailing 12-month earnings had their best chance of reaching their potential. (See cites below) They did so by challenging assumptions, causing employees to stretch themselves, and not allowing just recovery to be their driving strategy. Key questions to ask yourself in this process are:
Which business lines do you still own and what trends were changed or accelerated by COVID?
What new efficiencies or processes have been generated through COVID driven changes such as remote work?
How has the organization health of the company changed and is your culture intact?
It may be that your business is permanently changed and a more likely needs change in strategy. As an example, the air travel industry changed after 9/11 and must drastically change again.
Next steps are:
Look to streamline cost structure, focus more on resource allocation, and evaluate possible restructuring your operations through combining departments. Examine the ROI on all spend.
Examine steps to improve gross margins by paying attention to details and the small stuff.
Focus on how to make your sales team more effective and shorten the sales cycle. Do not be afraid to change their mindset. Make them think about new ways to sell and increase their income, which will immediately gain their attention.
Taking these actions at the exit from 2020 to improving performance in 2021 is not likely to be a straight line. There will be ups and downs when combining process, changing people's responsibilities, and reducing overhead. Making your team understand that 2021 is an opportunity year to gain on competition and set your firm on a strategic path fitting a "new normal." Use the pandemic as your pivot point to reinvent the company and your future. Let your team know that avoiding hard decisions now will likely put you at the mercy of competitors that did make the hard choices.

Cites:
Chris Bradley, Marc de Jong, and Wesley Walden. "Why your next transformation should be "all in," McKinsey Quarterly, October 2019.
Kevin Laczkowitz, Tao Tan, and Mathew Winter, "The numbers behind successful transformations," McKinsey Quarterly, October 2019.

C Squared Solutions provides fractional CFOs and COOs in nearly all industries. We used the process described here for our 2020 exit and 2021 plan. Give us a call and we can discuss your concerns and next steps.