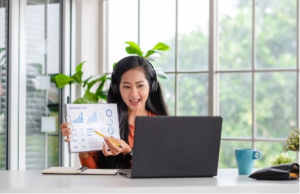 As COVID vaccination rates increase, many organizations are planning how best to return to full operations. Whether you can have remotely working employees versus all on-premises employees depends on your industry and the size of your business. This blog focuses on key concepts to consider as you design a hybrid work model that the current workforce demands.
Technology companies are the most progressive in their remote working model, with a focus on recruiting and retaining top talent. Manufacturers of physical products cannot use that model because they require hands-on to produce. Small companies find it harder to have remote employees because their small staff fills multiple roles that require more coordination.
Technology-based companies plan a much higher percentage of remote employees, as they view themselves as the most progressive and flexible due to technology. These companies also plan to reduce their costs by cancelling office space. A recent study, "The Working from Home Research Project" (Texas A&M University) found that 30% of tech workers want to work remotely on a permanent basis. Yet management is also concerned with new data from the analytics company Humanyze. This data shows that communication suffers from remote working by 21% and only improved by 20% from that level if an employee works just one day per week in the office.
A recent University of Chicago study showed that during the pandemic, productivity declined by 20% with remote work, yet total hours worked increased by 30%. The study demonstrated that this is an unsustainable work model. A Stanford economics research project from 2014 showed that employees working from home had a 50% lower promotion rate than their office-working counterparts. This likely is a symptom of reduced collaboration for the remote group.
As a result, employers are balancing:
Hiring and keeping younger employees that favor remote work and independence
Reducing office-related costs and replacing with increased technology infrastructure
Coping with reduced communications and collaboration, reducing productivity
Declining employee loyalty and less identification with their job
Managing creativity loss with declining team collaboration
Being "the best place to work" versus reduced customer contact and weakened relationships
Improving overall top talent in a tight job market
There is no perfect work model to fit everyone, and hybrid models tend to be company-specific. Several studies indicate that while younger workers favor autonomy, they also want collaboration and socialization. Humans in general seek socialization through various means: family, organizations, social web platforms, and in public places. Socialization will be the long-term unknown that will cause hybrid work structures to continually evolve. The model you develop for 2022 will likely not be the same in 2025.
C Squared Solutions provides interim or fractional CFOs, COOs, and CEO advisors in nearly all industries. We analyze and advise on this issue frequently through sophisticated modeling. Give us a call and we can offer more information and details. Reach out soon before your employees seek more attractive jobs. The current employee quits rate is 2.7%, an all-time high.