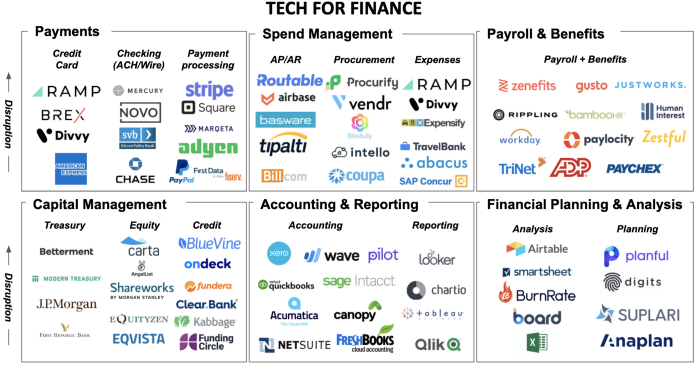 What do all these major companies have in common:  Allstate, American Airlines, Carnival Cruise Line, Dell, Disney, Ford, Hilton, Goldman Sachs, Kohl's, MGM, Marriott, Ralph Lauren, Raytheon, Shell, Uber?  They will all be employing far fewer people next year due to fallout from the Coronavirus.
Most of us have been to this movie at least once in our career:  a layoff happens, and the remaining team is asked to do more work with fewer people.  When Excel was the main tool for finance teams, the added workload was daunting.  But in 2020, we have many finance and accounting tools at our disposal.  Here are the six key layers of the finance stack, where current technology solutions abound:
Payments – for sending and receive money
Spend Management – for managing spending across employees and vendors
Payroll & Benefits – for attracting and retaining top talent
Capital Management – for optimizing your capital structure
Accounting & Reporting – for producing timely and accurate financials
Financial Planning & Analysis – for budgeting and forecasting
Add to the stack a 7th layer of Business Intelligence tools (such as Microsoft Power BI, Qlik Sense and Tableau) and you could perform advanced analytics that deliver compelling business value.  Do not be overwhelmed if your current Fintech stack only includes QuickBooks and Excel. Here is a high-level plan to get you moving forward:
Make a commitment and a plan to bring your finance stack into the current decade. Then take just one step forward before January 1, 2021.
Prioritize your efforts by involving data users from both the finance team and management team. This is a good time to review which data is most used.
Utilize existing resources. You will have talent on your team that is up to speed on the latest and greatest tools.  Engage them as project leaders.
Tools are evolving fast, so lean into the newest ones to get ahead of the curve.  The best finance leaders in a post-COVID world will be proactively equipping their teams to meet the ever-increasing need for more data and analytics to make business decisions more quickly and effectively.
We help companies and non-profit organizations through the details of strategy, analytics, and models. We have been offering insights successfully over the last 25 years.