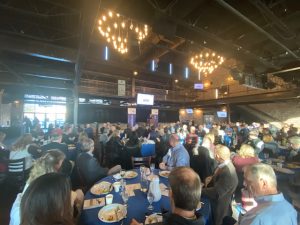 For many businesses, networking is an important component of their sales and marketing effort – particularly for businesses that rely on referrals. Lead generation has become increasingly challenging, perhaps due to ever-increasing competition within most business sectors, coupled with decisionmakers becoming overwhelmed with the barrage of unsolicited sales and marketing communications, whether by phone, email, LinkedIn, mail, or other means. It's not surprising that we are returning to the tried-and-true approach of making connections and building relationships in order to help us find the products or services we need.
Consequently, it's understandable that many of us who are working to grow our companies have learned to become "power networkers", doing more and more in-person and virtual meetings every week. This takes enormous amounts of time – a most precious resource for any busy professional. And it must be with the RIGHT people. C Squared concluded that we needed to up our networking game and find an organization that could help us accomplish this goal. We were fortunate to find Accelerent, and decided it was the ideal organization to help us leverage our time more powerfully and efficiently.
C Squared joined Accelerent in December of 2021 and quickly understood how the organization is less about networking and more about "opportunity development". Here, Derek Dabbs, Accelerent's Regional President for Denver, shares his thoughts on how professionals can develop new relationships in a purposeful, meaningful, and efficient way that will generate the right opportunities for business growth.
Accelerent's Perspective: A Few Words from Regional President Derek Dabbs
Unique to Accelerent is our structured relationship development which organically leads to more opportunities. C Squared is a valued Partner (and our Title Sponsor) because they embrace the concept of building relationships that will organically generate business opportunities over time. Accelerent is the fuel that helps engage more decision makers faster, brings in partners who advocate for each other's businesses, and provides structure and accountability in a well-oiled business development system. This is different from a 'traditional' networking organization, where there's often more talk than action, or leads groups that can be overly transactional. Accelerent's system focuses on:
Being selective on who we invite to join the group. Partners have well established businesses that offer complimentary products/services to fellow Partners.
Understanding that everyone's time is precious and introductions are made with purpose.
Helping Partners get the most out of Accelerent's business development system, including quarterly strategic meetings that include setting goals and being held accountable.
Providing multiple ways in which Partners are encouraged to meet and build relationships, ranging from 1-on-1 meetings, small group meetings, workshops, and large group events that average over 200 attendees with national speakers to which Partners and their guests can mingle and share in a substantive learning experience.
After working with C Squared for a year as an Accelerent Partner, it was clear that their team possessed a give-first mentality and a desire to grow Accelerent into the powerhouse it is becoming.
While every Accelerent Partner is critical to the overall success of the group, there is no Partner that is more important than the Title Sponsor.
Dave Johnson and his team at C Squared Solutions demonstrated the following characteristics that we were searching for in a successful Title Sponsor:
Well-respected executive leader in the Denver metro area
Formidable list of clients and the company is well-respected
Passionate about growing Accelerent
Passionate about growing their own company
Lead by example and set a tone / pace for the other Accelerent Partners
Embody the philosophy of building meaningful relationships within the Accelerent community and have introduced numerous Accelerent Partners to their trusted relationships
Has been a true partner to the Accelerent leadership team
C Squared's Perspective: Why We Said Yes to Title Sponsorship
When Accelerent extended the offer to become its Title Sponsor we were honored. We accepted the offer and were willing to make the significant investment based on the experience we'd had over the last 12 months as an Accelerent Partner, knowing that this was in fact the most efficient way for our team of advisors to develop new relationships in a more purposeful way that would generate new opportunities for our firm.
We're not suggesting Accelerent is the right organization for all businesses. And, it's like most things: you'll get out of it what you put into it. In our experience, Accelerent has helped us create relationships we wouldn't have otherwise made to not only create a network of trusted connections, but a sustained networking opportunity with a strong ROI! If you are interested in experiencing the power of Accelerent for yourself, reach out to us to learn more and get invited to our next breakfast event.
C Squared Solutions provides interim or fractional CFOs, COOs, and CEO advisors in nearly all industries. We analyze and advise on these issues frequently through sophisticated modeling and experienced management. Give us a call or visit our website for more information and details. We have been there and done that!