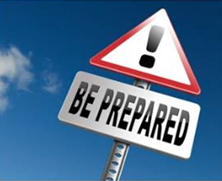 The media is filled with warnings of a looming recession, and unfortunately, there are far more questions and speculation than there are answers. No one really knows if we'll have a soft or hard landing, how long the recession might last, and how much impact it could have on the economy and on businesses. You may be encountering some of the early warning signs in your business, including:
Customers placing smaller orders or asking for price reductions
Key customers taking longer to pay invoices
Sales people finding it harder to get appointments and a declining backlog
Your bank is asking more questions about your business more often
Customers are increasing the use of credit cards for payment
Suppliers are inquiring about faster payment or offering special deals to entice you to buy faster
Your peers are talking about their businesses slowing
Smart companies are always looking at such warning signs as an opportunity to strategize about safeguarding their business from any threat. Having an overall plan while your business is still strong can provide you with the greatest opportunities to weather these regular economic storms. It can also relieve fears your employees may have around losing their jobs, and placate bankers and suppliers.
Here are several actions to consider (the "stitch in time") as you're building out the strategy to protect your business during this and any uncertainty:
Review inventories and get rid of slow-moving stock. When there isn't a market for your product, creating cash becomes more important than the profit on the sale.
Review surplus equipment that could be sold to provide cash.
Use the cash from 1 & 2 to reduce debt. Excess debt becomes a significant burden when revenue declines.
Create a human capital plan that addresses which people will need to be let go first if an economic slowdown hits you hard. If you can, create contingency plans to keep them on board at a lower pay rate or reduced hours for a period of time until you can get back on solid ground.
Consider a plan to increase sales efforts and gain market share from competitors that aren't planning.
Understand your cashflow and create a forecasting process to identify potential issues 12-26 weeks in advance. This provides visibility that enables you to put steps 1-5 into action and limit your rate of cash burn. This greatly adds to your ability to sustain the business through hard times.
Paying attention to early warning signs and developing a plan of action steps will afford resiliency in your business even through tough economic challenges. It can also give you a competitive advantage. Our process for helping companies understand their gaps and helping them determine actionable steps forward is our Guided Discovery process. Through a complimentary two-hour Zoom exploration, business owners clarify and tie the drivers of their business to their strategic plans. This is valuable during a strong economy and particularly insightful when a downturn is on the horizon. Applying our many years' experience as business owners, we'll guide you with questions that help reveal needs and priorities and plan for the "what if's" that inevitably happen along the way.
C Squared Solutions provides interim or fractional CFOs, COOs, and CEO advisors in all industries. We analyze and advise on these issues frequently through sophisticated modeling and experienced management. Give us a call and we can offer more information and details. We have been there and done that!