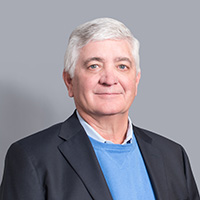 CEO | COO | CFO
Partner
Industries
Gene is co-founder and partner in C Squared Solutions. Gene's more than 30-year career includes serving as Chief Financial Officer and Chief Operating Officer for companies in the manufacturing, software, service, cable, medical and dental products sectors. Gene has a solid success record in companies at all stages of development: start-up, growth, retraction and repositioning. He has also successfully managed companies during varying economic periods: growth, stability, decline and recession.
Gene has served clients in the following industries: business services, construction suppliers, distribution, financial services, health clubs, manufacturing, professional services, software, solar, technology services and hardware and staffing services.
Specialties and Background
Most recently Gene served as the CFO for an RFID software company (TrackX, Inc.), where he developed the financial infrastructure to grow the company, from pre-revenue to $5 million plus in revenue. The company was able to obtain several rounds of equity capital of $7 million and an additional debt financing to enable this rapid growth and set the company up for a strategic merger and successful exit for the original VC investors. The company went public on the Toronto Venture Exchange (TSXV) through an RTO raising over $10M in capital through both debt and equity instruments.
Prior to TrackX, Gene served as Chief Financial Officer for Rainbow Rewards, an e-commerce and web business deriving primary revenues from POS credit card transactions where he created a financing plan that included foreign Letters of Credit and Convertible Notes in an Australian holding company and worked on pre-IPO funding to go public on the Australian Exchange in 18 months.
Education
Gene holds a MBA in Finance and Bachelor of Science in Accounting from the University of Colorado.
Interests
In his free time, Gene enjoys golf, snow shoeing, cooking and spoiling his grandchildren.